A real Bike Hotel for cyclists in Piedmont
Bike Hotel for cyclists
The most athletic and passionate mountain bikers will find one more reason to choose the Park Hotel Mondovì for a unique, unforgettable holiday in Piedmont. There are numerous paths and routes in the surrounding area awaiting our guests, of various levels of difficulty, for all legs and all tastes, making our hotel an ideal destination for anyone dreaming of a sporting holiday. Starting from the Park Hotel Mondovì, our guests can enjoy countless trips, pedalling along routes set in the dramatic nature of the Alps and the Langhe.
A huge choice of paths along which to ride with family, friends or as a couple, seeing the world from different perspectives, ensure an unforgettable holiday for those who decide to stay at the Park Hotel Mondovì.
Making our four-star establishment even more of a real Bike Hotel for cyclists in Piedmont, are the numerous special services, designed especially for our sportier guests. These include access to an indoor bike park, or garaging for maintenance, as well as bicycle hire: a real paradise for bikers and those who love an active holiday!
Ideal for a cycling holiday close to Cuneo
The Park Hotel Mondovì is in the ideal location for those who want to set out on enjoyable paths and trips in the saddle of a mountain bike. Our hotel is in a strategic location making it the destination of choice for all cyclists who want a sporting bike holiday, whether just for rides or for a high-altitude workout.

Park Hotel Mondovì is an ideal starting point for those dreaming of a cycling holiday close to Cuneo, for trips, outings or climbs, on all kinds and grades of mountain bike. This is in an area which tells the story of Italian cycling, all year round, and in a natural environment with a thousand breathtaking views.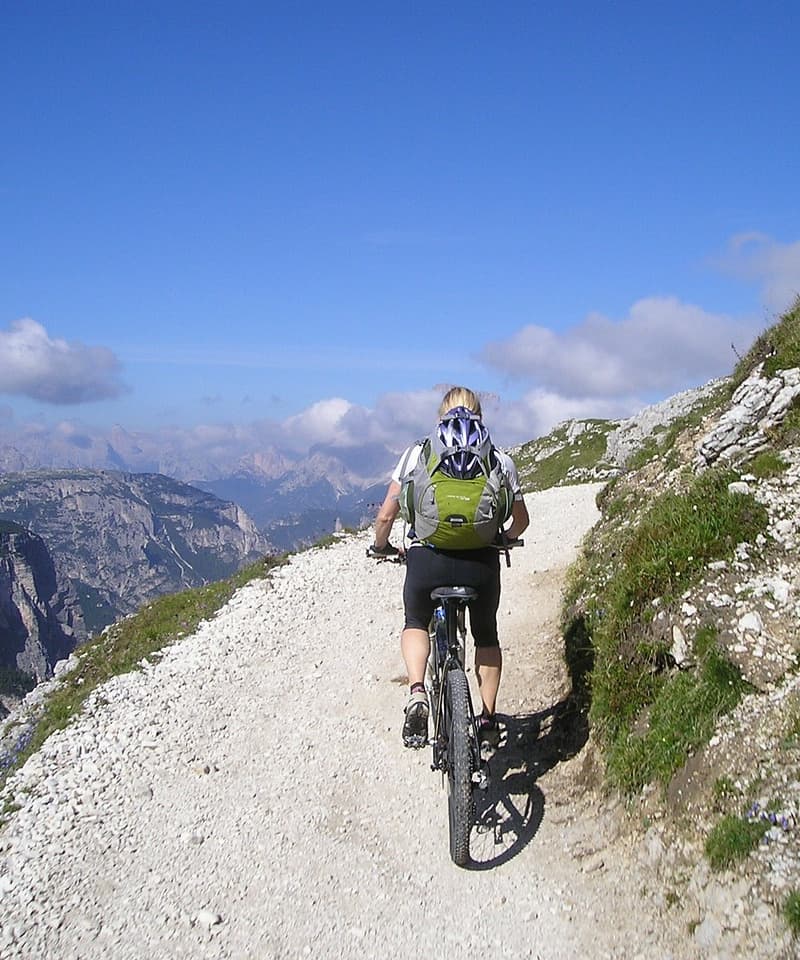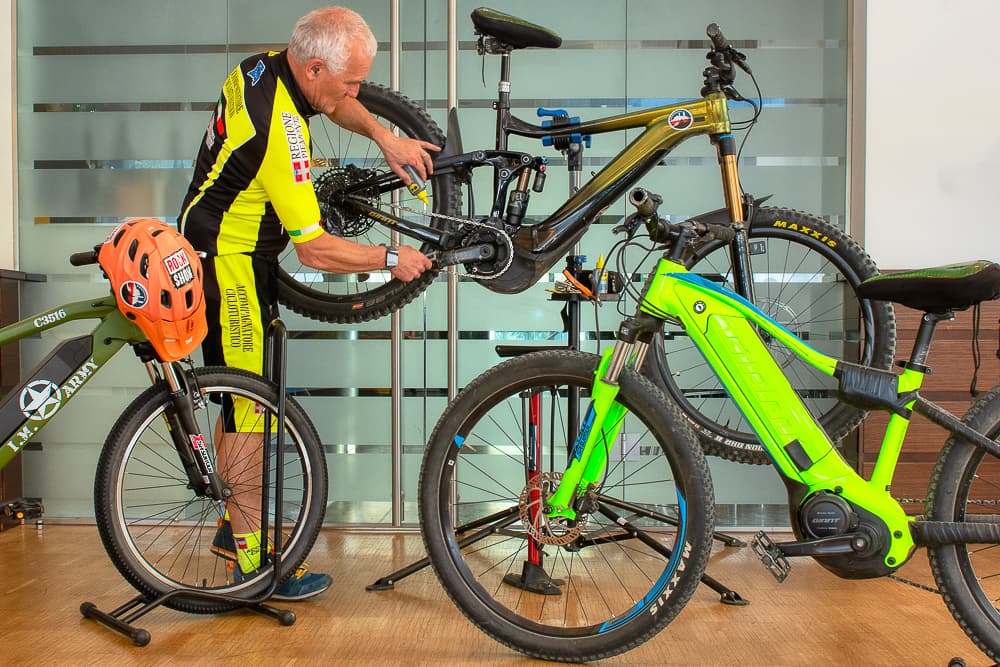 Bicycle parking
Among the many convenient, functional services provided by the Park Hotel Mondovì, one of the most valued is certainly the bicycle parking for the exclusive use of our guests. Those who choose our hotel for a cycling holiday can use an enclosed parking space, separate from that for cars, where they can safely keep their bike, before climbing back on the saddle to set out on a new, enjoyable ride, exploring the paths of the Alps and the Langhe.
As well as parking, the Park Hotel Mondovì provides all bikers choosing to stay there with a small garage, equipped with all the tools needed for bike maintenance and more, for their exclusive use. So at the Park Hotel, nothing can spoil our guests' holiday! Those who need to make a repair can make use of our valuable arrangements with local bike shops.
Breakfast for Athletes
A bike workout, pedalling along more or less demanding paths, uses a great deal of energy, so you need to fill up before getting in the saddle. Breakfast at the Park Hotel Mondovì satisfies all tastes and palates, paying particular attention to the nutritional needs of our sportier customers..
Breakfast is the most important meal of the day for a cyclist, so those who choose our hotel for their own vacation will find a corner just for them, with nutritional items such as bread, fresh conserves and honey, dried fruit and everything needed for a bike trip.
Strategic position for the Alps and the Langhe
The Park Hotel Mondovì has everything needed to be the choice of destination for those dreaming of a cycling holiday.
One of the points in favour of our hotel is certainly its strategic position, from where our guests can easily organise long mountain bike rides to explore the wonderful Alpine environment. Staying in our establishment means being in the best starting point for exploring paths and routes to suit every taste, both for families with children and for the most expert cyclists.
For those staying at the Park Hotel Mondovì, it's impossible to resist the appeal of a walk or bike ride among the hills and vineyards, exploring the excellent sights offered by Piedmont. Nature, food and the good wine of the Langhe entice and bewitch anyone choosing the experience of a wine trek, which will leave those passionate about oeno-gastronomic tourism in ecstasies. Those passionate about nature, art and culture will also have an unforgettable holiday here, with a bicycle trip organised from our establishment to visit the enchanting mediaeval towns all over this wonderful region of Italy.
Bike hire
ll Park Hotel Mondovì pensa anche a chi sceglie di fare una vacanza in montagna, ma vuole viaggiare "leggero". Dedicato esclusivamente agli ospiti del nostro hotel quattro stelle, c'è infatti il servizio di nolo bici. Una possibilità comoda e pratica per chi viaggia in famiglia, con amici o in coppia e vuole godere a pieno delle mille sfaccettature offerte dalla natura delle Alpi con una divertente passeggiata in sella ad una bicicletta.
The Park Hotel Mondovì also considers those who want a holiday in the mountains, but want to travel light. There is also a bike hire service only for guests at our four-star hotel. A convenient and practical option for those travelling as a family, with friends or as a couple, and who want to enjoy all of the thousands of aspects offered by the nature of the Alps, with an enjoyable outing on the saddle of a bicycle.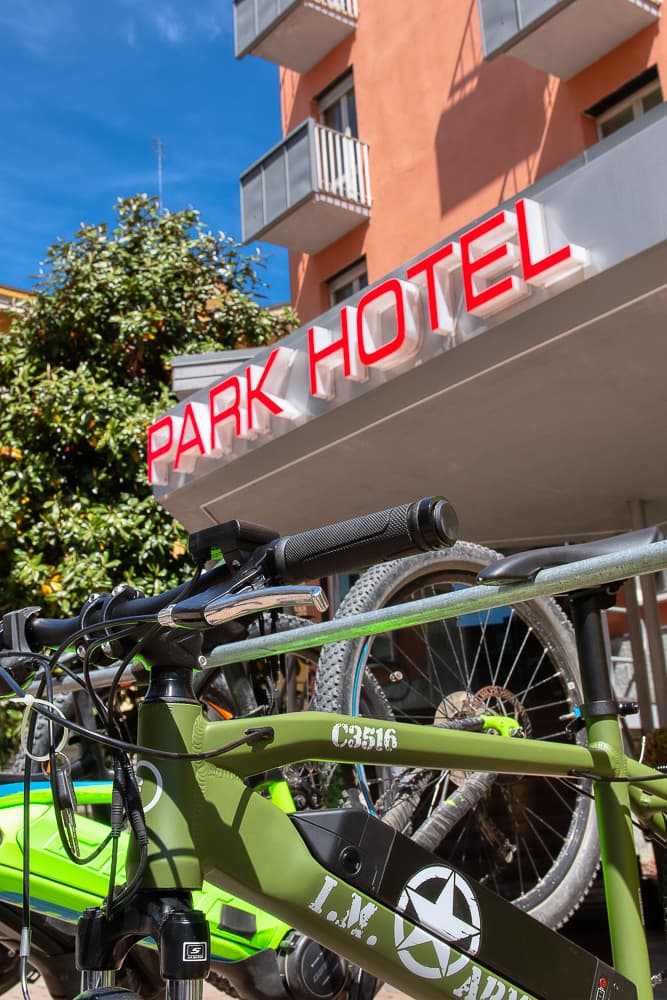 Mondovì Park Hotel special offers, promotions and packages
Exclusive Offers and Packages
Tastings in Valcasotto

Piedmont in one bite! Cheese tasting, with an optional glass or bottle of wine, only from Piedmont!

FRIDAY TO SUNDAY
Tastings in Valcasotto
(half board)

Piedmont in one bite! Cheese tasting, with an optional glass or bottle of wine, only from Piedmont!
FRIDAY TO SUNDAY

Find out all about it
Tasting in the Langhe

Discover the spirit of Piedmont, authentic experiences of the essence of this historic region.
Immerse yourself in a culture celebrating fine wine, olive oil, organic ingredients, and the simple art of "La Dolce Vita".

FIND OUT ALL ABOUT IT
4 star Langhe

Spend a weekend exploring the gastronomy and mediaeval tradition of the Langhe, starting with your experience of the Mondovì Park Hotel.

FIND OUT ALL ABOUT IT
3 days immersed in the Langhe

Stay at the Park Hotel, to visit the mediaeval town of Mondovì.
Visit the region's most beautiful places, and join guided tours of the world's most famous wineries.

FIND OUT ALL ABOUT IT